AAAC Residential & Commercial Services Tomball
We are Tomball's most gentle and complete commercial wildlife service!
Brian S. Moss, President
Humane Certified Professional
Certified Marksman
Home Repair Specialist
AAAC Certified Wildlife Professional
Certified Mole Removal Specialist
PO Box 131286
Tomball, TX 77393
Or Email Us At: NorthHouston@aallanimalcontrol.com
Commercial Animal Removal Kingwood, Tomball, The Woodlands, Spring, Cypress, Humble, Conroe, Atascocita, Aldine and areas throughout Harris, Montgomery, and Walker County
Tomball Commercial Wildlife Control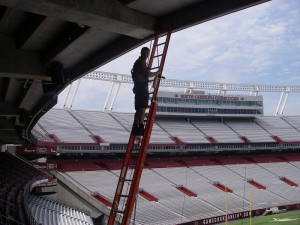 AAAC Wildlife Removal is Texas's largest and most complete wildlife control company. Our commercial wildlife control department is trained and equipped to handle all forms of commercial wildlife control and wildlife management services. Wildlife conflicts with commercial structures such as stadiums, hospitals, manufacturing facilities, parking garages, high rise offices, universities, public schools, government buildings and multi-level residences are common throughout the metropolitan areas of Houston. Our certified wildlife specialists will inspect, diagnose and correct problems associated with wildlife damaging commercial properties or causing a conflict with its existence there. We provide our clients with humane and discreet wildlife control services that will restore value to your property and protect your employees and patrons.
Qualifications
Working with commercial structures requires the use of specialized equipment and highly trained personnel. AAAC Wildlife Removal's Commercial Wildlife Technicians undergo a rigorous training and certification process. We ensure that they have the required skills and experience to handle all commercial wildlife control situations. Our training and safety program is the best in the industry and complies with all local, state and federal regulations.
Commercial Wildlife Removal Tomball
Solving a nuisance wildlife problem often requires the removal of the problem animal(s). In most cases the removal process requires trapping of the wild animal and trans-location of the animal to a more suitable habitat. Our trapping procedures are always performed in a safe and discreet manner minimizing stress for the animals and exposure to any employees or patrons of the commercial property.
Commercial Bird Control Tomball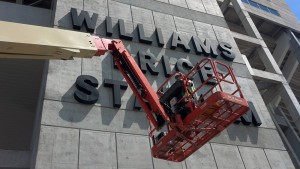 Nuisance bird problems with commercial structures is one of the most common wildlife conflicts we resolve for our commercial clients. Pigeons, starlings, sparrows, swifts and resident waterfowl are the main nuisance birds we encounter throughout the metropolitan areas of Texas. Nuisance birds will use numerous areas of a structure to roost, loaf and build nests. They will use areas such as store signs, billboards, awnings, structural beams/rafters, HVAC Systems, security lights and many other locations that they find available access. The key to commercial bird control is a comprehensive bird control program. A bird control program that not only reduces the bird population but also utilizes deterrents and physical barriers. AAAC Wildlife Removal Bird Control Technicians are trained and certified installers for many of the nation's top bird control product manufacturers. We can install and maintain audible bird deterrents, shock track, bird spikes, bird slope, bird netting, bird repellents, and many other bird control products. Resident Waterfowl such as geese and ducks can be a huge nuisance for business parks and large residential complexes. Goose and duck control is a complex nuisance problem and requires the adherence to restrictive laws and the implementation of a long term management program. Many waterfowl species are protected by the Federal Migratory Bird Act and require special permits in order to remove and control these nuisance birds. AAAC Wildlife Removal can assist our commercial clients in obtaining the required permits and resolve the nuisance waterfowl problem in accordance with all state and federal laws. Our bird control specialist will provide you with the best long-term solution to your nuisance waterfowl problems.
Commercial Bat Control Tomball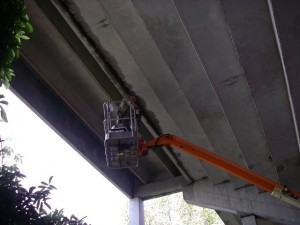 Bats are a common problem for stadiums, parking garages, high rise buildings and a many other manmade structures. Bats will utilize the hollow cavities, cracks and crevices of these structures for hibernation and roosts to raise their young. Bats create conflict with these properties by depositing large accumulations of feces and urine in and around the roosting locations. Many species of bats are protected by state and federal laws and the removal process called exclusion should only be attempted by a trained and certified bat removal specialist. AAAC Wildlife Removal Bat Removal Specialists have assisted our commercial clients in removing thousands of bats from football stadiums, parking structures, high rise building and apartment complexes. If you have a bat problem then give our Commercial Wildlife Department a call and let us help you protect your property from the damages that bats may cause. Our Commercial Wildlife Services Department is ready to assist with all of your commercial wildlife needs. We service the entire state of Texas and provide you with the best solution to your wildlife problems. Give us a call today and let our staff our wildlife professionals help you protect your greatest investments.