We've received your message and will contact you as soon as possible. Thanks!
AAAC Wildlife Removal & Control In Tampa FL
Tampa's most gentle and complete wildlife service!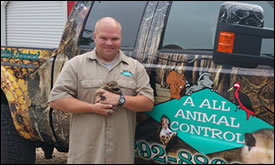 Chris Wirt, Owner
Certified Wildlife Professional
Humane Certified Professional
7028 W Waters Ave #218
Tampa Fl, 33634
Call Today: 813-536-5407
Text To: 813-536-5407
Email Us: tampa@aallanimalcontrol.com
Animal Removal in Tampa, Clearwater, Brandon, Largo, St Petersburg and nearby cities in Florida
Tampa Animal Removal
We are a nuisance Wildlife Management company. We proudly serve Tampa, Clearwater, Brandon, Largo, St Petersburg, and the surrounding communities.
Call for animal removal and control services in Tampa, FL. We specialize in the control and removal of bats, snakes, squirrels, raccoons, mice, rats, beavers, opossums and skunks. We provide animal removal.
We are expert animal removal professionals who are capable of removing nuisance wildlife animals from your home or property including: Bats, armadillos, squirrels, beavers, birds, raccoons, rats, rattlesnakes, rodents, moles, bobcats, coyotes, deer, foxes, gophers, mice, opossums, pigeons, pocket gophers, starlings, snakes
We are a full service wildlife management company. For assistance with animal removal and control of we're just a phone call away..
Tampa Wildlife Control
We will work effectively and efficiently for animal removal and wildlife control. We can clean up and sanitize any affected areas. Tampa wildlife professionals can provide home repair. We can repair the damage done to your home or business and install preventative measures, such as dryer vent covers and chimney caps.
Beware of companies that are not licensed and insured or charge a ridiculously low price for wildlife control. These are red flags that the company is not qualified, insured or licensed. If they damage your property or become injured on your property, you may be held liable!
Call us for an expert wildlife removal professional. We are skilled at removal, control, and trapping of nuisance wildlife in Tampa, Clearwater, Brandon, Largo, St Petersburg, and nearby cities.