AAAC San Bernardino Metro Areas Wildlife Removal CA
San Bernardino's most gentle and complete wildlife removal service!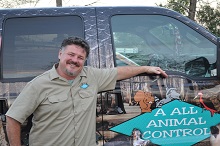 Owner: Ronald & Patti Chavez
Humane Certified Professional
Certified Marksman
Home Repair Specialist
AAAC Certified Wildlife Professional
29910 Murrieta Hot Springs Road #G-145
Murrieta, CA 92563-3815
Email Us Today: socal@aallanimalcontrol.com
Animal Removal San Bernardino County, Califorina
Metro San Bernardino County Locations
A All Animal Control of San Bernardino for all of your animal and wildlife control needs. Residential and commercial wildlife removal.