AAAC Squirrel Removal & Control In Roanoke VA
We are Roanoke's most gentle and complete wildlife service!
---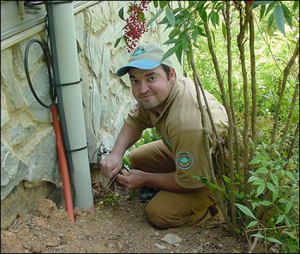 Tim Stevens, Owner
Humane Certified Professional
Wildlife Biologist
Certified Marksman
PO Box 12752
Roanoke, VA 24028-2752
540-701-6757 Call Us Today
Or Email Us At: roanoke@aallanimalcontrol.com
Check out our new Squirrel removal page!
Squirrel Removal Roanoke, Salem, Blacksburg, Christiansburg, Smith Mountain Lake Virginia and metro area
Here at A All Animal Control in Roanoke, we are often called on to take care of squirrels that have become a nuisance in the Roanoke, Salem, Blacksburg, Christiansburg, Radford, Smith Mountain Lake, Bonsack, Bent Mountain, and Vinton areas. Squirrels become a nuisance when they move into areas that they don't belong, such as in your attic.
Removal of squirrels should be initiated as soon as they are discovered living in your home, as the area the squirrels are living in can quickly become contaminated with their waste. In addition to the contamination, squirrels are also a fire hazard; they will gnaw on just about everything, including wood and electrical wiring in order to keep their teeth filed down. Call A All Animal Control today at 540-701-6757.
Squirrel control and removal should only be attempted by those who understand the danger this animal can present. Wildlife Professionals understand this danger and have the tools and training to safely handle these animals. A All Animal Control is your local wildlife professional that can get rid of your squirrel.
Wildlife Professionals are trained to understand the habits of squirrels. For instance, squirrels will frequently use an attic as the place they will give birth and raise their young. A mother squirrel is known to be particularly ferocious when defending her young. Removal of a squirrel and her young from an attic is a very unique process that should be professionally resolved.
Trapping a squirrel humanely is important. Getting rid of a squirrel or squirrels is a process that should be carried out with proper planning and procedures. Squirrel removal can be done in an efficient manner with the proper tools and training. Choose a professional that can remove the squirrels in your attic quickly and humanely!
Capturing a squirrel is a potentially dangerous situation that will require the Wildlife Professional to risk being bitten. Persons untrained in wildlife removal should not attempt to remove a squirrel on their own. AAAC of Roanoke will get rid of the squirrel or squirrels using the latest technology and equipment available.
Squirrels do occasionally die in unusual places and they should be removed as soon as possible. Removal of a dead squirrel in your attic or elsewhere is a service we provide, including deodorization of the area. Leaving a dead squirrel will create a terrible stench and is an invitation to other animals and insects.
The communities of Amsterdam, Austinville, Bedford, Big Island, Blacksburg, Buchanan, Blue Ridge, Boones Mill, Catawba, Cave Springs, Christiansburg, Cloverdale, Crockett, Daleville, Draper, Dublin, Elliston, Fairlawn, Ferrum, Fincastle, Floyd, Forest, Fort Chiswell, Goode, Hollins, Indian Valley, Ivanhoe, Max Meadows, Moneta, Mount Tabor, Narrows, New Castle, New River Valley, Pearisburg, Pembroke, Peaksville, Penhook, Pulaski, Radford, Rich Creek, Riner, Roanoke Valley, Rocky Mount, Rural Retreat, Salem, Shawsville, Simmonsville, Smith Mountain Lake, Speedwell, Vinton and Wytheville, Virginia all experience squirrel control and removal problems. Squirrel control and removal are provided in all of these locations.
Get rid of squirrels the right way before the problem gets out of control!
A All Animal Control of Roanoke, VA is your Squirrel Control Specialist. If you have a nuisance squirrel, call us at 540-701-6757.