AAAC Raccoon Removal & Control In Roanoke VA
We are Roanoke's most gentle and complete wildlife service!
---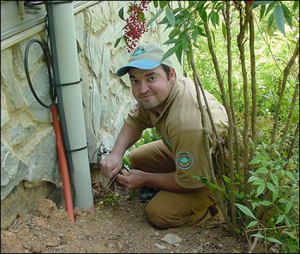 Tim Stevens, Owner
Humane Certified Professional
Wildlife Biologist
Certified Marksman
PO Box 12752
Roanoke, VA 24028-2752
540-701-6757 Call Us Today
Or Email Us At: roanoke@aallanimalcontrol.com
Check out our new Raccoon removal page!
Raccoon Removal Roanoke, Salem, Blacksburg, Christiansburg, Smith Mountain Lake Virginia and metro area
A All Animal Control of Roanoke, VA gets a lot of calls from homeowners and businesses in the Roanoke, Salem, Blacksburg, Christiansburg, Radford, Smith Mountain Lake, Bonsack, Bent Mountain, and Vinton areas about raccoons invading attics, crawlspaces, and sheds.
Raccoon control and removal should be undertaken as soon as they have been discovered living in your attic, crawlspace, house, or business. Raccoons can quickly contaminate insulation with urine and feces, as well as cause an extensive amount of other damage. Raccoons carry diseases, such as rabies and leptospirosis that can be passed on to humans and pets. Call your local A All Animal Control Wildlife Professional of Roanoke, VA before the problem gets out of hand at 540-701-6757.
Raccoons are larger than the other attic dwelling pests, such as mice, rats, squirrels, and opossums, and are normally much louder. Many homeowners with raccoons in their attic complain of being unable to sleep because of the thumping in the attic. Those with raccoons in their attic also frequently complain of the smell drifting down. Spaces or large holes big enough for a raccoon to fit through will often be found upon inspection of the roof.
To ensure that the removal of raccoons is done in the most humane and efficient way possible, it is important that raccoon control and removal only be attempted by those knowledgeable of the habits of these animals and the dangers that come with trying to remove them. For instance, raccoons will frequently choose an attic for the purpose of raising their young. Amateurs are unaware of this and if they do manage to trap the mama raccoon, the babies are left to die and decay in the attic.
A dead raccoon needs to be removed as soon as possible. Leaving a dead raccoon is unsightly and will only make the problem worse by attracting other animals and insects. Removing a dead raccoon from your yard or home and deodorizing the area is another service we provide.
The communities of Amsterdam, Austinville, Bedford, Big Island, Blacksburg, Buchanan, Blue Ridge, Boones Mill, Catawba, Cave Springs, Christiansburg, Cloverdale, Crockett, Daleville, Draper, Dublin, Elliston, Fairlawn, Ferrum, Fincastle, Floyd, Forest, Fort Chiswell, Goode, Hollins, Indian Valley, Ivanhoe, Max Meadows, Moneta, Mount Tabor, Narrows, New Castle, New River Valley, Pearisburg, Pembroke, Peaksville, Penhook, Pulaski, Radford, Rich Creek, Riner, Roanoke Valley, Rocky Mount, Rural Retreat, Salem, Shawsville, Simmonsville, Smith Mountain Lake, Speedwell, Vinton and Wytheville, Virginia all experience raccoon control and removal problems. Control and removal of raccoons are provided in all of these locations.
A All Animal Control is your local professional that can get rid of your raccoon problem the quickest and most humane way possible.
For your local Raccoon Control Specialist, call A All Animal Control of Roanoke, VA at 540-701-6757.