AAAC GroundHog Removal & Control In Roanoke VA
We are Roanoke's most gentle and complete wildlife service!
---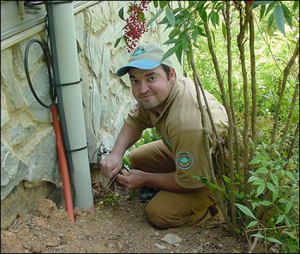 Tim Stevens, Owner
Humane Certified Professional
Wildlife Biologist
Certified Marksman
PO Box 12752
Roanoke, VA 24028-2752
540-701-6757 Call Us Today
Or Email Us At: roanoke@aallanimalcontrol.com
Check out our new Groundhog removal page!
Groundhog Removal Roanoke, Salem, Blacksburg, Christiansburg, Smith Mountain Lake Virginia and metro area
Groundhogs are a common species that we are called upon to control at A All Animal Control in Roanoke, VA. Groundhogs are often found living under sheds, decks, and porches, as well as in crawlspaces throughout the Roanoke, Salem, Blacksburg, Christiansburg, Radford, Smith Mountain Lake, Bonsack, Bent Mountain, Vinton and surrounding communities.
Groundhog control and removal should be initiated as soon as the animal has been discovered living under your shed, porch, deck, or crawlspace. Groundhogs can cause extensive damage to the foundation. Holes dug close or under sheds, porches, and decks can cause them to fall over on one side. Don't let this happen to you! Call A All Animal Control at 540-701-6757.
Trapping a groundhog humanely is important to the Wildlife Professionals at A All Animal Control. Getting rid of a groundhog is a process that should be carried out with proper planning and procedures. Groundhog removal can be done in an efficient manner with the proper tools and training. Whether the groundhog is in your crawlspace or under your shed, the Wildlife Professionals at A All Animal Control can remove it quickly and humanely.
Have a dead groundhog on your lawn? Groundhogs do occasionally die in unusual places and they must be removed as soon as possible. Removal and deodorization is a service we provide. Leaving the groundhog will only attract other animals and insects. Get rid of groundhogs the right way before the problem gets out of control!
The following areas all experience groundhog control problems: Amsterdam, Austinville, Bedford, Big Island, Blacksburg, Buchanan, Blue Ridge, Boones Mill, Catawba, Cave Springs, Christiansburg, Cloverdale, Crockett, Daleville, Draper, Dublin, Elliston, Fairlawn, Ferrum, Fincastle, Floyd, Forest, Fort Chiswell, Goode, Hollins, Indian Valley, Ivanhoe, Max Meadows, Moneta, Mount Tabor, Narrows, New Castle, New River Valley, Pearisburg, Pembroke, Peaksville, Penhook, Pulaski, Radford, Rich Creek, Riner, Roanoke Valley, Rocky Mount, Rural Retreat, Salem, Shawsville, Simmonsville, Smith Mountain Lake, Speedwell, Vinton and Wytheville, Virginia. The Wildlife Professional at A All Animal Control in your area will quickly work to resolve your groundhog problem.
A All Animal Control is your local professional that can get rid of your groundhog problem the quickest and most humane way possible.
For your local Groundhog Control Specialist, call A All Animal Control of Roanoke, VA at 540-701-6757