AAAC Snake Removal & Control In Riverside CA
Riverside's most gentle and complete wildlife removal service!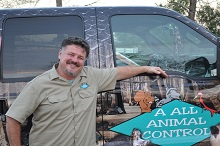 Owner: Ronald & Patti Chavez
Humane Certified Professional
Certified Marksman
Home Repair Specialist
AAAC Certified Wildlife Professional
29910 Murrieta Hot Springs Road #G-145
Murrieta, CA 92563-3815
Email Us Today: socal@aallanimalcontrol.com
Check out our new Snake removal page!
Snake Removal Riverside County, California
Snake Removal Riverside, CA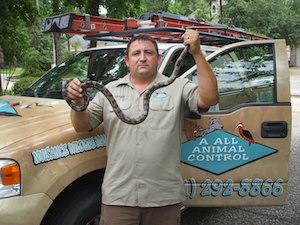 Snakes are some of the most unique wildlife to control in Riverside. Snakes can be found living in attics, crawlspaces, under front and rear porches, patios and basements in homes and businesses throughout Riverside County, California.
Snake control and removal should only be attempted by people who understand the danger. Wildlife Professionals understand snakes and have the tools and training to safely handle these very dangerous creatures. A All Animal Control Riverside can get rid of your Snakes. Garter Snake and Rattlesnake removal are very common calls. Often the Garter Snake is called the Garder Snake, Garden Snake or Guarder Snake.
Snake control Riverside, CA
Who said you have to live in the country or be swimming in a lake in order to come across a snake? Even in a metropolis such as Riverside you can come across a venomous creature such as a Copperhead, Cottonmouth, Rattlesnake or a Coral Snake. Not everyone can be a snake whisperer like the guys you see on television, but it's important to know what abilities these snakes have, and precautions to take in case you come across one. Click for common types of venoumous snakes in Riverside California.
We will quickly remove baby Snakes from your home or office. Young Northern Water Snakes look very much like a Northern Copperhead Snake. Call the professionals at A All Animal Control Riverside for immediate assistance, .
Trapping a snake humanely is important to prevent injury to the Snake. Getting rid of a Snake is a process that should be carried out with good planning and execution. Snake removal can be done efficiently with the right equipment and training. Humane Snake control is our goal and snake relocation can be provided in many cases. Snake extermination is often not necessary. Killing a snake negatively affects populations of this beneficial reptile.
Dead Snake removal from your porch, patio, attic or crawlspace is provided. Snakes do occasionally die in unusual places and they must be removed as soon as possible. We have even found a dead snake in a wall. Leaving the dead snake will only make the problem worse and and attract other animals and insects. Snake control is a necessary service to protect your home and family. Removing the snakes is the first step to making your home safe again. Get rid of snakes the right way before the problem gets out of hand.