Earth Savvy Pest Control Services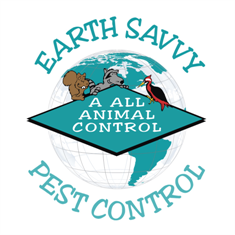 Providing Earth Savvy Pest Control services is as natural to our company as the chemical free wildlife services that we have always provided.
Partnering with the leader in environmentally friendly pest management products, we provide pest management services that have the lowest environmental and mammal toxicity.
Many of the pest control products we use are botanical in nature and derived from blended plant oils to mimic how nature naturally protects itself. Natural pest control methods combined with using Integrated Pest Management techniques to control entry points and eliminate the problem before it arises is essential to an effective pest control program.
An important part of any pest control program is to perform a perimeter treatment of the home or business and prevent insects from gaining access into the structure. With this exterior barrier in place and your home or business properly sealed against insect intruders, your chance of pests gaining access to the inside is dramatically reduced.
Prevention is the key in any pest or wildlife control program. Animal invaders will bring pests inside with them and these pests will multiply rapidly in their new environment. A properly sealed and treated home or business helps stop problems before they get out of hand.
From Ants to Zimmerman Pine Moths, one call is all you need to make to have Earth Savvy Pest Control services at your home or business. If our office does not treat a specific pest, we will refer you to one of our Professional Pest Alliance members for quick assistance with pest control services.