AAAC Wildlife Removal & Control In Milwaukee WI
Milwaukee's most complete wildlife removal service.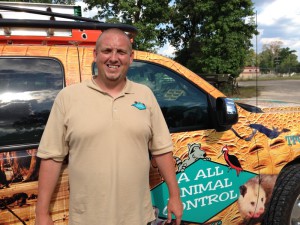 Brian Williams ~ Owner
Wildlife Management Professional
Humane Certified Professional
Certified Marksman
Home Repair Specialists
Or Email us at: Milwaukee@aallanimalcontrol.com
Servicing Milwaukee, Brookfield, Franklin, Menomonee Falls, Mequon, Greendale, Greenfield, Oak Creek, New Berlin, Wauwatosa, West Allis Metro.
We specialize in the control and removal of species such as bats, opossums, skunks, snakes, raccoons, mice, rats, beavers, and squirrels in Milwaukee, Brookfield, Franklin, Menomonee Falls, Mequon, Greendale, Greenfield, Oak Creek, New Berlin, Wauwatosa, West Allis and surrounding Metro.
Wildlife Removal Milwaukee
AAAC Wildlife Removal of Milwaukee's wildlife professionals are capable of eradicating the following nuisance wildlife from your home or property:
Bats, beaver, birds, blackbirds, bobcats, coyotes, deer, foxes, gophers, mice, moles, opossums, pigeons, pocket gophers, rabbits, raccoons, rats, rattlesnakes, reptiles, rodents, squirrels, starlings, skunks, snakes and most wild animals found throughout the greater Milwaukee metro.
We are a full service wildlife management company. For assistance with wildlife control and removal of pests we're just a phone call away at 414-310-3288.
Wildlife can be removed and controlled in many situations in homes and businesses. This includes animals in the attic, basement, between floors, crawlspaces, inside of walls, lawns or yards, under porches and decks, in garages, and anywhere else wildlife finds a home living too close to humans.
Wildlife damage repair Milwaukee
Wildlife can cause a lot of damage in different ways. Noises and scratching in the attic can be from mice, raccoons, squirrels, rats and other wild animals. Skunks often make their homes under porches, crawl spaces, and decks, and dig up flower beds, yards, and gardens. Moles will dig tunnels under your lawn and turn your yard into an eyesore. Bats, raccoons, and other animals can get in your attic and quickly contaminate it with feces. Other attic dwelling critters, such as squirrels, rats, and mice also gnaw on wiring which can lead to electrical outages and fires.
In addition to the, often extensive, damage caused by wildlife, humans and pets are also susceptible to many diseases that are carried by wild animals or grow in their droppings. Hantavirus, distemper, histoplasmosis, listeriosis, rabies, and leptospirosis are all diseases that can be acquired by living with or coming into contact with wild animals. In addition to these diseases, having nuisance wildlife in your home often leads to an increase in asthma and allergy symptoms.
Call us for elimination of pest wild animals from your home and business. We work quickly to control nuisance wildlife. We can also clean up and sanitize the affected area. Our wildlife professionals are able to provide home repair. We repair the damage done to your home or business and install preventative measures, to animal proof the area.
Wildlife Control Milwaukee
By hiring an ADC, Animal Damage Control, Animal Damage Control Agent, MAPAC, Problem Animal Controller, NWCO, Nuisance Wildlife Control Operator, Wildlife Management Experts, Wildlife Management Professional. AAAC Certified Wildlife Professional or Wildlife Management Pro, you ensure a professional will be controlling, removing, and will eliminate the wildlife problem and find the best wildlife solution for the animals that are affecting you.
Beware of companies that are not licensed and insured or charge a ridiculously low price for wildlife control. These are red flags that the company is not qualified, insured or licensed. If they damage your property or become injured on your property, you may be held liable!
Call AAAC Wildlife Removal of Milwaukee, WI for local wildlife removal professionals skilled at extermination, elimination, eradication, trapping, in Milwaukee, and nearby cities, 414-310-3288.