AAAC Skunk Removal & Control In Madison WI
The most complete skunk control service in Madison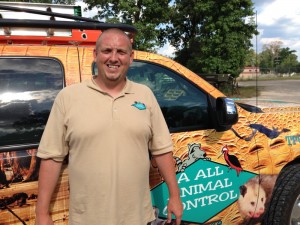 Brian Williams ~ Owner
Wildlife Management Professional
Humane Certified Professional
Certified Marksman
Home Repair Specialists
P.O. Box 45764
Madison, WI 53744-5764
Call us today: 608-770-7600
Too Busy to Call? Text to 608-576-5683
Or Email us at: Madison@aallanimalcontrol.com
Skunk Removal For Madison, Monroe, Middleton, Sun Prairie, Watertown, Fitchburg, and nearby cities in Dane, Jefferson, and Green Counties
AAAC Wildlife Removal of Madison, WI is on call to handle your skunk problem in Madison, Monroe, Middleton, Sun Prairie, Watertown, Fitchburg, and all neighboring cities.
Call 608-802-8678 for Skunk Control and Removal in and around Madison WI.
Skunk Control and Skunk Removal should only be carried out by a wildlife professional as soon as they have been discovered living under your deck or in your garage, crawlspace, or basement. Skunks may also need to be removed if they are destroying your lawn in their search for grubs and worms, as well as trying to get into places such as under your enclosed deck or porch. The sooner Skunk Removal and Control is started, the less damage there will be. Skunks also carry some diseases which are able to be passed to humans and pets, including rabies.
Removal of a dead skunk from your yard or home, including deodorization of the area, is another service we provide. A dead skunk should be disposed of properly as soon as possible. Leaving a dead skunk is unsightly, it smells bad, and it will only get worse by attracting other animals and insects and smell worse once the decomposition reaches the spray sac.
We service the Greater Madison area, including:
Albany, Albion, Aztalan, Belleville, Black Earth, Blue Mounds, Brodhead, Burke, Cambridge, Clarno, Concord, Cottage Grove, Cross Plains, Deerfield, De Forest, Dunkirk, East Bristol
Farmington, Fitchburg, Fort Atkinson, Ixonia, Jefferson, Koshkonong Mounds, Lake Mills, Madison, Maple Bluff, Marshall, Mazomanie, McFarland, Middleton, Milford, Monona, Monroe, Monticello, Montrose, Mount Horeb
New Glarus, Oregon, Palmyra, Roxbury, Rutland, Stougton, Springfield Corners, Sun Prairie, Verona, Waterloo, Watertown, Waunakee, Windsor
AAAC Wildlife Removal of Madison is your local wildlife professional that can get rid of your skunk infestation or problem skunk in the most effective, efficient, and humane way possible in Madison, Monroe, Middleton, Sun Prairie, Watertown, Fitchburg, and all neighboring cities.
For your local Skunk Removal Specialist, call AAAC Wildlife Removal of Madison at 608-770-7600.