AAAC Bird Removal & Control In Lexington KY
The most complete bird control service in Lexington
Vince Cunningham, Owner
Wildlife Management Professional
AAAC Certified Wildlife Professional
AAAC Humane Certified Professional
AAAC Certified Marksman
AAAC Certified Mole Removal Specialist
AAAC Certified Bat Exclusion Professional
NWCOA Certified Basic Wildlife Control Operator

1025 Majestic Dr. #910356
Lexington, KY 40513
E-mail us: lexington@aallanimalcontrol.com
Bird Removal Lexington Kentucky metro including Georgetown, Lawrenceburg, Frankfort, Shelbyville
Lexington Bird Control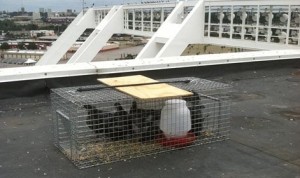 AAAC Wildlife Removal is Lexington, Kentucky's most complete bird control company. We provide professional bird control throughout Lexington, Frankfort, Georgetown, Lawrenceburg, Versailles, Harrodsburg, Nicholasville, Richmond, Winchester, Paris, Mt. Sterling, Danville, and nearby cities. Birds can be found living in attic eaves, soffits, chimneys, behind shutters and the siding of the homes and businesses throughout Lexington, KY. They will also build nests and roost in barns and other outbuildings.
Kentucky is home to the Downy Woodpecker, Magpie, Pigeon, Sparrow, Starling, Swallow, Northern Flicker, Nuthatch, Canada Goose and many other bird species. These birds will commonly use an attic to raise their young. Removal of baby birds from an attic, chimney or fireplace is a very unique procedure that should be professionally resolved to prevent the birds from entering the home and endangering the occupants. We are also frequently called upon to remove birds from dryer vents, kitchen vents and bathroom exhaust vents. Birds living in these vents can cause damages to the vent ducting and create dangerous blockages.
Birds living in an attic or wall will build nests and deposit harmful droppings. These droppings can contain the fungus Histoplasma Capsulatum and present a health hazard to anyone breathing the fungus spores. Bird waste removal shout be performed by a trained professional in order to safely remove this harmful substance. Our Wildlife Damage Repair Department specializes in bird waste remediation. Birds also carry Aspergillosis, Avian Pox, Salmonellosis, Trichomoniasis and West Nile Virus.
The control of pest birds requires a comprehensive and integrated approach. To get rid of birds, bird trapping, scare tactics and harassment techniques are commonly employed to repel and reduce bird populations. The installation of physical barriers such as bird netting, bird slope, bird spikes, shock track and wires also may be required to get rid of birds and control your bird problems. AAAC Wildlife Removal bird control professionals know how to get rid birds and we have years of experience removing birds and solving bird problems for both residential and commercial clients. Bird pest control and bird removal services is one of our specialties at AAAC Wildlife Removall.
Bird extermination or bird eradication by a pest control company or exterminator is not in the best interest of this very beneficial animal. Bird extermination would negatively affect the environment and reduce the numbers of insect controlling birds.
Pigeon, Starling Control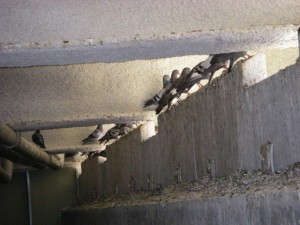 Pigeons and starlings are two of the most bothersome nuisance birds in the Lexington, KY area. Pigeons tend to be a more urban dwelling bird, but can also be found in the suburbs. Pigeons will roost and create nests on signs, in awnings, support beams and billboards becoming a serious problem for business owners. Starlings are found in both rural and urban areas creating problems for both residential and commercial structures. Starlings will build nests in awnings, patios, porches, garages, attics, soffits, walls, bath vents, kitchen vents, and soffits. Let the bird control professionals at AAAC Wildlife Removal help you with the removal and control of pigeons and starlings from your home
or business.
Trapping a bird humanely is important to prevent injury to the bird. Getting rid of a bird is a process that should be carried out with proper planning and procedures. Bird removal can be done in an efficient manner with the proper tools and training.
A problem bird pest can also live in the attic eaves, fireplaces and chimneys. We can get rid of that bird in the attic quickly and humanely. We remove birds using only the latest technology and equipment available. Bird proofing and bird exclusion provides the best bird control solution and reduces the chances of having further bird problems.
A dead bird in your attic or crawlspace is another service that we provide including the deodorization of the area. Birds do occasionally die in unusual places and they must be removed as soon as possible. Leaving the bird will only make the problem worse and cause further damage to your home and attract other animals and insects. Animal control for birds is a necessary service to protect your home and family. Removing the bird is the first step to making your home healthy again. Get rid of birds the right way before the problem gets out of control.
AAAC Wildlife Removal of Lexington is your most complete bird control company. If you have a bird control or bird removal need, call us at 859-695-6756.