AAAC Wildlife Removal of Houston
The most complete opossum control service in Houston
Brian S. Moss, President
Humane Certified Professional
Certified Marksman
Home Repair Specialist
AAAC Certified Wildlife Professional
Certified Mole Removal Specialist
CAGE code: 79AW7
PO Box 131286
The Woodlands, TX 77393
Email Us Today: NorthHouston@aallanimalcontrol.com
Opossum Trapping Houston and areas throughout Harris, Montgomery, and Walker County
Opossum Facts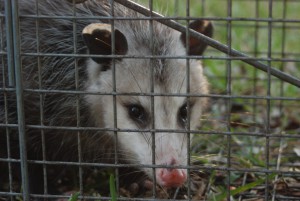 Considered the "ugly duckling" of the wild animal world, opossums may not be the cutest, but they aren't all that bad; in fact, that are quite clever.
The correct name for the white faced creatures we see in our area is "Opossum", not the common misused name "possum" which is actually a different creature found in Australia and New Guinea. Our opossums (Diprotodontia) are nocturnal marsupials and have a set of very unique characteristics.
Interesting facts about Opossums:
They have such a strong immune system that they can handle venomous snakes such as rattlesnakes and cottonmouths. Most people expect opossums to have rabies, but in fact, their strong immune systems and low body temperatures protect them from rabies; making them around 8 times less likely to be infected that most wild animals.
Most people think opossums are pretty dumb; however, when their ability to remember where food is was tested, they came out on top, with results scoring better than rats, rabbits, cats and dogs.
Opossums have 50 teeth…all the more to eat you with…just kidding.
A lot of people are aware that opossums "play dead" when they feel threatened. However, what most probably don't realize is that the opossum is actually have a seizure and is not something they can actually control. What happens is they will roll over, stiffen up and close their eyes. They will also bare their teeth as saliva foams around the mouth and emits a foul odor from their glands. They can stay in this state from minutes up to hours.
What do Opossums Eat
An opossums diet consists of fruits, snakes, insects, snails, slugs, mice, fish, eggs, rats, crayfish and carrion.
In a more urban area, opossums can be seen foraging through outside trashcans, and will also eat pet food, and bird seeds amongst other things.
A few years ago I lived in an apartment, and when I would cook something that had a lot of grease, I would end up dumping it over the backside of my fence. Before you knew it, I had an opossum friend coming over every night looking for me to feed it something, because it had gotten so used to my dumping the grease. I actually made the mistake of leaving out snacks on our table out on the patio, and the opossum started getting closer and closer up to my house to get whatever food it could find. A piece of advice I could give you, is to not leave any food outside of your house; including dog food; unless you want your dog to have a house mate.
For those of you who don't know- Carrion, which makes up a part of the Opossums diet, is a food source found in dead in decaying animal flesh…road kill. Opossums are omnivores, meaning they are both plant and meat eaters. Other than their typical diet, they will also eat/scavenge roadkill and even chickens.
Where to Opossums Hang Out?
Just like their diet, Opossums really aren't picky about where they live, as long as it's a safe, dry place. In the great outdoors they can find shelter in underbrush, a hallowed out log or in a tree (did I mention they were great tree climbers?). However, not to be too comforted because here at AAAC Wildlife Removal we get tons of calls about Opossums in clients' homes. Opossums will also seek shelter under decks, and inside attics, where they can cause a lot of damage. While opossums are "nomadic" creatures and don't stay in one home for too long, they can still leave damage behind. They will make nests of all kinds of materials; including sticks, grass, or any trash…pretty much anything they can get access to. To remove an opossum from your home, please call an AAAC Wildlife Removal Professional who will display excellent customer service and use efficient and humane animal removal in your home.
Mating Seasons for Opossums:
Unlike a lot of wildlife animals that breed just once a year, an opossum will breed all year long as long as the temperatures are mild. They can have up to 25 babies which are called Joeys. However, because a momma opossum only has 13 teats used to feed her babies, some will die before they reach maturity.
Interesting fact about momma opossums: they are marsupials, meaning they have pouches on their underside which they can use to carry their babies. Joeys will stay in their momma's pouch in order to remain nourished and warm. The joeys don't really leave the pouch until they are a couple of months old.
Keep in mind, with the warming up of seasons we will start to see more calls about opossums. There is a chance you could come across a Joey that can be around 4 months old or so…this little guy will be an orphan, as the momma opossum will not come back for their babies once they reach a certain age. Please call AAAC Wildlife Removal to come and remove them from their home so that they may be tended to and released back into the wild once they reach a certain age. Please do not attempt to keep an opossum, as their survival rates will not be very high if not taken well care of.
Should I be Afraid of Opossums?
If opossums feel threatened they will normally display several different warning signs before taking it to the next level; which includes hissing, growling, and showing their 50 teeth to you. However, most opossums found in urban areas are so used to humans that they will hang out in your yard with you, as long as you don't provoke them. As long as you don't try to attack them in any way, they will leave you alone.
Do you have a doggy door? Be advised that opossums can be so comfortable with humans that they may actually sneak in to your house through a doggy door. It will be suggested that you remove the doggy door, shall a technician come out and service your home.
Damage Opossums Can Inflict: opossums are big nuisances in gardens, as they will feed on seeds, fruits and nuts.
-They also carry diseases such as leptospirosis, tuberculosis, relapsing fever, tularemia, toxoplasmosis, coccidiosis, trichomoniasis, and Chagas. Please have all pets in your home vaccinated as they are perceptible to these diseases that can be lethal.
Opossums really don't get the credit that they deserve; they aren't harmful animals and rarely carry diseases. They normally don't cause as much damage as other pests can such as raccoons. As a matter of fact, opossums will normally be gone within a day without creating any damage. However, you really don't want an opossum in your attic that has the chance to die in there and smell up your house. Please call an AAAC Wildlife Removal professional today and schedule an appointment to have the animal removed.