AAAC Wildlife Home & Attic Services Florence SC
The most complete attic removal from attic in Florence
Jesse Tenley
Wildlife Management Professional
Humane Certified Professional
Certified Marksman
South Carolina Contractor RBS#56834
Licensed, Bonded and Insured
PO Box 25608
Columbia, SC 29224
Email Us: southcarolina@aaacwildliferemoval.com
Animal Removal from home & attic in Florence and the Metro Area
Attic and Home Animal Removal Florence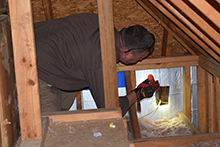 Scratching sounds in the attic or walls is a very common call. There are many species of wildlife that try to make your home and attic a safe place to have young. Allowing wildlife to live in your attic can be unhealthy.
Insulation becomes contaminated and needs to be removed. We can help cleanup your attic, disinfect it and make it safe for you and your family.
We can remove all wildlife waste from your attic, crawlspace and home. Our technicians have the skills and equipment to completely remove, clean, decontaminate and restore all areas of your home or business.
Wild Animal Waste Cleanup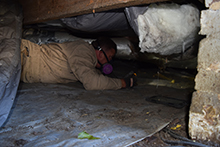 All animal waste will be contained in a sanitary manner so nothing enters the living space of your structure. Wildlife waste in the attic can be a hazardous material and should only be removed by trained and experienced professionals. Removed using proven solutions, the right equipment and the proper protective gear.
Removing wildlife from your attic and home can be a difficult task. You may need the help of a wildlife professional.
Even if you are already at this stage, AAAC Wildlife Removal of Florence can alleviate the rat infestation from your property and seal-up the structure, preventing rat re-entry.
Don't waste your time and money on other pest and animal control companies that only treat the problem. Turn to the animal control company that is all inclusive – no need to call for an additional service in order to get your structure sealed and repaired.
INSULATION REPLACEMENT
The most cost-efficient and immediate way to make your home more cost effective is to cut heating and cooling costs by add insulation. Adding new insulation to a sanitized attic, crawlspace or wall is the final step of the waste remediation process. This guarantees the attic or crawlspace is both clean and properly insulated. We will install loose-fill/blown-in insulation or batts insulation, usually made of fiberglass or cellulose, to your crawlspace or wall by our certified professionals.
Our wildlife professionals often find themselves looking at a home that has been under-insulated since it was built. When animals occupying an attic or crawlspace for any amount of time, the insulation will be damaged and the animals will have left hazardous waste. Animals will remove insulation from large areas, matte the insulation with the feces, body oil and excrement that they leave behind, and destroy the insulation's thermal barrier (also known as the R-value).
BENEFITS OF ADDING INSULATION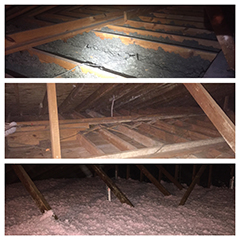 Proper insulation is one of the most important things about a home. When a home is well-insulated, the amount of time the heating and cooling systems are required to run is reduced. This leads to a decrease in the amount of wear that is put on the equipment, which will also play an important role in increasing the life of the heating and cooling system. The process of adding insulation gives your heating and cooling systems more effective control over the temperature, reducing the load on the equipment.
PROTECT THE ENVIRONMENT
Doing your part to help reduce greenhouse gasses can be easier than you think! It's as simple as reducing power consumption, which you can do by adding or replacing poor insulation. When you properly maintain your equipment and make regular upgrades with the recommended insulation, air sealing, and thermostat settings, your heating and cooling energy use can be cut. This also helps reduce environmental emissions by 20-50%!