AAAC Snake Removal & Control In Florence SC
The most complete snake removal service in Florence
Jesse Tenley
Wildlife Management Professional
Humane Certified Professional
Certified Marksman
Certified Mole Removal Specialist
South Carolina Contractor RBS#56834
Licensed, Bonded and Insured
PO Box 25608
Columbia, SC 29224
Call today: 843-326-4409
Email Us: southcarolina@aaacwildliferemoval.com
Snake Removal in Florence And The Florence County Metro Area
Florence Snake Removal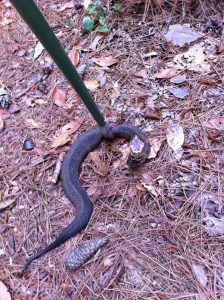 Many species of snakes across the state of South Carolina often times come into conflict with humans. There is a chance of finding both venomous and non-venomous snakes in South Carolina neighborhoods. Snake removal and snake control is one of our most common nuisance wildlife services in the summer months. The temperate increases are directly linked to snakes becoming more active, which is a common feature among most cold-blooded animals. Extreme fear of snakes, whether or not they are venomous, is common and in most cases, our clients just want them gone.
Snakes are specialized animals that play an important role in our environment. Most snakes are non-venomous and help control the populations of insects and rodents. Like other reptiles, snakes regulate their body temperature by climatic conditions. Because snakes cannot tolerate extreme cold, they will normally hibernate during the winter months. Snakes usually emerge from their dens around the time of March. Snakes are most active during early morning hours, late evening hours and at night.
Snake Control Florence
One of the most effective ways to discourage snakes from coming back is remove their shelter This can be done through habitat modification. When you eliminating rock piles, tall grass, brush piles, etc., you will cause the snakes to have to find a more suitable place to make a habitat. Lumber, wood piles and other debris around your home should be at least 18 inches off the ground to discourage the snakes. You can also keep snakes at bay by cutting away their food supply; meaning minimizing insect and rodent populations in the area. Sometimes the presence of rodents or insects, or cool, damp, dark areas of houses, barns and other buildings are what is attracting the snake. It is important that all points of entry be sealed to prevent snakes from entering houses or other buildings. Snakes in and around your home be removed immediately.
If you suspect you may have a snake in or around your home, you should call AAAC Wildlife Removal of South Carolina's snake removal specialist as soon as possible. Our snake removal professionals have the necessary training and skills to get rid of your nuisance snakes. We are also trained to complete the necessary habitat modifications and exclusion techniques needed to maintain snake control and prevent them from making a home of your house and/or yard.