AAAC Bat Removal & Control In Florence SC
The most complete bat removal service in Florence
Jesse Tenley
Wildlife Management Professional
Humane Certified Professional
Certified Marksman
Certified Mole Removal Specialist
South Carolina Contractor RBS#56834
Licensed, Bonded and Insured
PO Box 25608
Columbia, SC 29224
Call today: 843-326-4409
Email Us: southcarolina@aaacwildliferemoval.com
Bat Removal in Florence And The Florence County Metro Area
Florence Bat Removal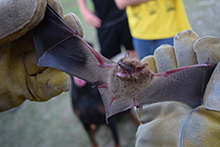 Bats are one of the most common nuisance wildlife animals that we provide services for in our state of South Carolina. Bats can have the potential to cause several problems in both your homes and your businesses. Bats can also create a serious conflict with humans when they choose attics or wall cavities as nesting sites When bats take up living in people's home or business, they leave a strong odor. This odor caused by large accumulations of bat guano (feces). Bat guano should be removed immediately as it can be very hazardous to humans and pets. It can be difficult to tell how many bats have taken up residence in your home based on how many we see. This is because their colonies change daily and it is possible that your home is one of several nesting sites for just one colony of bats. There could be five bats one day, followed by twenty bats the next day. These are just a few of the reasons you should call the bat removal professionals of AAAC Wildlife Removal of South Carolina for expert bat removal, bat exclusion, waste remediation and attic restoration after bats have invaded your home.
Call a wildlife professional as soon as you suspect you have a bat infestation at 843-326-4409.
Bat Damage Florence
There are plenty of reasons not to put up with the bats in your home or business. They create annoying scratching and squeaking noises. Not only will their droppings and urine stain the walls and ceilings, but they are also the cause of persistent odor that could attract insects and other bat colonies, even after the original colony has been removed. Accumulation of bat droppings in attic spaces over time has been associated with Histoplasmosis, a respiratory disease that can lead to severe symptoms. Histoplasmosis is caused by the fungal spore Histoplasma capsulatum. Guano that has decomposed from 2-5 years, or even longer, can provide an ideal habitat for these spores to reproduce and grow. It is also possible for someone to come in contact with a rabid bat. A bite from a rabid bat may lead to a case of rabies, another disease with severe symptoms.
Getting Rid of Bat Colony Florence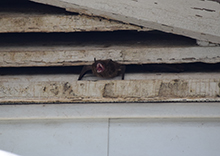 "Bat-proofing" a structure is the best long-term, most cost-effective and biologically acceptable way of controlling bats. The goal of an exclusion is to remove the bat colony completely, and permanently, from a building. Bat exclusion is the only method that can guarantee achieving this objective. Preventing bats from entering or coming back into occupied spaces is one of the biggest concerns for those who have a bat infestation problem.
It is recommended that before doing any type of bat control, bat removal or bat relocation, contact a bat removal professional. Sometimes people seek pest control professionals to inquire about whether or not the nuisance bat colony can be eliminated with some kind of poison. Because it is not legal to use any kind of poisons for bat control, this is not an acceptable control method. It is also important to remember that poisoning bats could only worsen the situations, as the bats may die in an area that is difficult to access. This leads to problems caused by dead animal odor. It is also possible that bats affected by the poison could disperse over an entire community before dying. That could increase the chance of contact with a child, dog, cat, etc. leading to a potential "rabies scare" and/or rabies exposure. It is essentials that any and all bats be removed from your home immediately.
Call your local bat removal specialists of AAAC Wildlife Removal immediately if you suspect you may have bats in your attic, bats in your walls, bats in your shed, bats in your utility building, or bats in your chimney. Our bat control technicians have the necessary training, as well as the skills to safely and completely get rid of your nuisance bats. We also provide services to complete the necessary damage repairs and exclusion techniques to keep bats out of your home or business.