AAAC Bat Removal & Control In Denver CO
We are Denver's most gentle and complete bat service!
---
Office Certifications
AAAC Certified Wildlife Professionals
AAAC Wildlife Removal 10-Years Award
Better Business Bureau Accredited Business
Licensed, Insured, Bonded
Humane Certified Professionals
National Wildlife Control Operators Association
Home Repair Specialists
Bat Conservation International
Animal Control Experts
E-mail us: denver@aallanimalcontrol.com
Bat Removal in the greater metropolitan area of Denver including Boulder and Aurora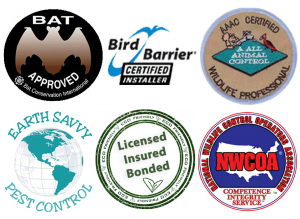 Denver Bat Removal
All Animal Control is Denver's bat removal experts. We provide services for  bats in the attic, bats in the chimney, bats in your home and bats in your crawlspace. Bats are a nuisance animal that needs to be removed from your home. We control bats with the usage of one way doors and bat exclusions.
One of the problems that homeowners face after bats have been removed from their Denver home is attic damage. Bats contaminate insulation with their guano. This buildup of feces will attract insects and damage the insulation. We provide complete attic cleanup and insulation replacement. We also handle odor control for bat infestations.
The mountain and plains communities of Bailey, Bennett, Berthoud, Campion, Castle Rock, Conifer, Evergreen, Morrison, Mountain View, Niwot, Sedalia, Watkins, and Welby support Bats in good numbers. Bat control and removal services are provided in all of these locations.
Cities such as Bow Mar, Centennial, Cherry Hills Village, Colorado Springs, Commerce City, Denver, Edgewater, Evergreen, Federal Heights, Foxfield, Franktown, Fort Collins, Glendale, Golden, Greenwood Village, Gun Barrel, Highlands Ranch, Indian Hills, Lafayette, Lakewood, Littleton, Longmont, Loveland, Louisville, Northglenn, Parker, Sheridan, Sherrelwood, Superior, Thornton, Westminster and Wheat Ridge, CO all experience Bat control and removal problems.
Bats commonly invade attics, crawlspaces, walls, and sheds in order to colonize in and raise their young.
It is very important to begin bat removal and control as soon as bats are discovered living in your home. The longer the bats stay, the longer they will continue to come back and put the homes occupants at risk of being bitten. This is alarming because bat bites are the main cause of rabies in humans. Bats can also quickly contaminate an area. If the conditions are right, a fungus dangerous to humans may start to grow in the guano (bat droppings).
Call a wildlife professional as soon as you suspect you have a bat infestation at 970-431-8404.
Bat removal and bat control should only be attempted by professionals trained to remove bats safely. Trying to capture a bat is a very dangerous situation that could result in a bite. Wildlife professionals understand the danger presented by bats and have the training and the tools to safely handle them. AAAC of Denver is your local wildlife professional that can get rid of your bat in a manner that does no harm to humans or the bats.
Most people assume that a lone bat just happened to fly in through an open window or door. Unfortunately, the reality is that if you see one bat, you usually have more just waiting to be found in your attic, crawlspace, or walls.
Call the bat removal professionals at AAAC Wildlife Removal of Denver for immediate assistance!
At AAAC Wildlife Removal of Denver, we feel that removing a bat humanely is important. Bat Removal can be done in a humane and efficient manner with the right tools and training. Choose a wildlife professional that uses the exclusion method of Bat Removal to ensure that the bats leave your attic alive, but are unable to get back in!
Dead bat removal, including sanitation and deodorization of the area is also a service we provide. Dead bats need to be removed immediately. A dead bat will start to smell and invite other animals and insects.
Call AAAC Wildlife Removal of Denver at 970-431-8404 for professional bat removal in Denver to get rid of bats the right way before the problem gets out of control!