AAAC Wildlife Removal & Control In Aurora CO
We are Aurora's most gentle and complete wildlife service!
---
Office Certifications
AAAC Certified Wildlife Professionals
AAAC Wildlife Removal 10-Years Award
Better Business Bureau Accredited Business
Licensed, Insured, Bonded
Humane Certified Professionals
National Wildlife Control Operators Association
Home Repair Specialists
Bat Conservation International
Animal Control Experts
E-mail us: denver@aallanimalcontrol.com
Animal Removal in Aurora, Denver, Boulder, Littleton, Centennial, Englewood, and surrounding communities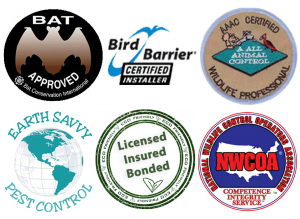 Animal Removal Aurora
AAAC Wildlife Removal is your local wildlife experts we provide service for the control of bats, birds, beaver, cats, coyotes, chimney Swifts, chipmunks, deer, flying squirrels, fox, geese, groundhogs, mice, moles, muskrat, opossum, pigeons, rabbits, raccoons, rats, skunks, snakes, squirrels, sparrows, starlings, turtles and woodpeckers.
We also service the city, cities and towns of Bellvue, Berthoud, Campion, Drake, Estes Park, Glen Haven, Jamestown, Laporte, Livermore, Longmont, Lyons, Masonville, Red Feather Lakes and Wellington, Colorado
The county or counties that AAAC Wildlife Removal services are Adams, Arapahoe, Boulder, Broomfield, Aurora, Douglas, Elbert, Jefferson and Park.
AAAC Wildlife Removal, a Nuisance Wildlife Management company is a leader in providing wildlife, animal and pest control services for residential, industrial and commercial clients in Aurora CO and surrounding communities. We can handle any wildlife control problem from mice to deer and provide incredible service while using the latest technology and equipment. To control wildlife requires a qualified and experienced expert to assure you of expert care of your wildlife problem.
Our wildlife control experts have been specially trained in the control of wildlife specific to Aurora, CO and will take care of the problem in the most gentle and humane way possible. All wildlife experts of AAAC Wildlife Removal undergo a rigorous training program for wildlife control in order to give you the most efficient and cost effective solution to your problem. Our wildlife professionals are licensed and insured for your protection and comply with all laws regarding wildlife control.
A wildlife expert is just a phone call away and can often assist with your Aurora and Aurora, Colorado wildlife control needs the very same day. Call us at 970-440-7594 to put an end to that annoying wildlife problem and control damage wildlife causes.
By hiring an ADC, Animal Damage Control, Animal Damage Control Agent, MAPAC, Problem Animal Controller, NWCO, Nuisance Wildlife Control Operator, Wildlife Management Experts, Wildlife Management Professional. AAAC Certified Wildlife Professional or Wildlife Management Pro, you ensure a professional will be controlling, removing and will get rid of or eliminate the wildlife problem and find the best wildlife solution for the animals that are affecting you.
A qualified and trained technician will provide an affordable wildlife control service to fit your needs and situation. Extermination services are provided in your local area as well as the metropolitan area.
Our professionals know how to catch and release the captive animal. Once caught, they must abide by all local wildlife laws. AAAC Wildlife Removal technicians are trained and equipped to clean up all waste, hazardous waste, guano, droppings, feces, urine and poop. A thorough cleaning is important to protect your family from diseases.
To make your home safe and secure, our highly skilled repair experts can replace insulation, install screening, screen chimneys, cap chimneys and repair siding. Our wildlife experts can also perform many other wildlife damage repair. Wildlife damage inspections are another service provided for property managers, real estate agents, building owners as well as the seller or buyer of a home or commercial building. Wildlife inspections can also be performed for insurance companies to confirm damage claims for wildlife. Repairs are warranted for your protection and decontamination services are also available.
AAAC Wildlife Removal ensures professional wildlife control for noises in an attic such as a raccoon, squirrel or bat colony.  The removal of an animal in wall is another custom and expedient procedure provided by AAAC Wildlife Removal for many animal species in private residences and commercial properties.
Other animals we remove from homes and businesses are goose, prairie dog, voles,  rabbit, and cockroaches.