AAAC Raccoon in Attic Removal Service Ashland KY
The most complete bat control service in Ashland
Vince Cunningham, Owner
Wildlife Management Professional
AAAC Certified Wildlife Professional
AAAC Humane Certified Professional
AAAC Certified Marksman
AAAC Certified Mole Removal Specialist
AAAC Certified Bat Exclusion Professional
NWCOA Certified Basic Wildlife Control Operator

PO BOX 273
Louisa, KY 41230
E-mail us: centralky@aallanimalcontrol.com
Raccoons in the Attic Ashland, KY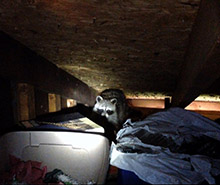 You have probably heard some natural creeks and groans in the night and thought it was just your house settling. These noises are very common and they can sound a little creepy, especially at night. But when those groans turn into thumps and growls, you should become more concerned. When you hear a loud thumping noise in the attic accompanied by some low growls or whining sounds, you can almost be certain they are being caused by an intruding raccoon. Raccoons are probably the largest mammal, other than yourself, that you'll find in the attic. Raccoons will generally find ways to get into your attic around the soffits, eaves, fascia boards, gable vents and large mushroom roof vents that are not
fortified against raccoon entry.
Raccoons seek shelter from the elements just like anything else. They need a place to construct dens for raising their young and for hiding during daylight hours. Raccoons are nocturnal and spend most of the daylight hours inside their dens sleeping and tending to their young. In Kentucky raccoons will start giving birth as early as late March and we have even seen newborn kits as late as August. Raccoon kits will whine and chatter when they are hungry or if mom has left them alone for too long. If you are
hearing whining or chattering in your attic, then you probably have a mother raccoon and her kits living comfortably in your attic.
Raccoons are very adaptable and can live most anywhere there is shelter and food. They will usually stay within several city blocks of their dens but may travel several miles a night in search of food or a possible mate. Just because you don't see raccoons during daylight hours it doesn't mean you won't get a raccoon in your attic. There is even an abundant raccoon population well within the city limits of Ashland, KY. Therefore, if there is food available in your neighborhood in the form of garbage, pet food, bird seed, or other sources; you will most likely have raccoons roaming the streets and lawns of your Ashland neighborhood each and every night.
The human population is ever growing and we continue to sprawl farther into forests and other natural areas in order to build homes and businesses. Whether we want to or not this expansion brings us into contact with more and more wildlife such as raccoons. In these situations, it is professional wildlife companies like AAAC Wildlife Removal of Ashland that can help to alleviate some of these conflicts with humans and wildlife. AAAC Wildlife Removal provides both residential and commercial clients with wildlife removal and we can also repair the damages they have caused to your home or business.
If you need assistance with raccoons in your attic or any other wildlife issue then call on our trained and certified wildlife professionals. The Wildlife Professionals at AAAC Wildlife Removal will conduct a complete inspection of your home and attic and be able to recommend a fast and economical solution to your raccoon in attic problem.